WHAT'S YOUR FLAVOR! TELL ME WHAT'S YOUR FLAVOR.... WHHOOOO!!!

I had randomly started to take up a pole amount my friends asking the simple question of "If you were a lollipop, what flavor would you be and why?" Fairly simple and straight forward, right?? Not so easy as I had thought... many of the responses were "I would be that flavor because it's my favorite." I guess I needed to set some rules and asked for a more creative answer. There were a few that gave me some fun responses. like "Fruit punch! Gay with a one-two punch!" or "Lemon-Lime, it's lip smacking tangy." My own flavor would be blue raspberry, "Sweet yet a little tart... that's right TART!"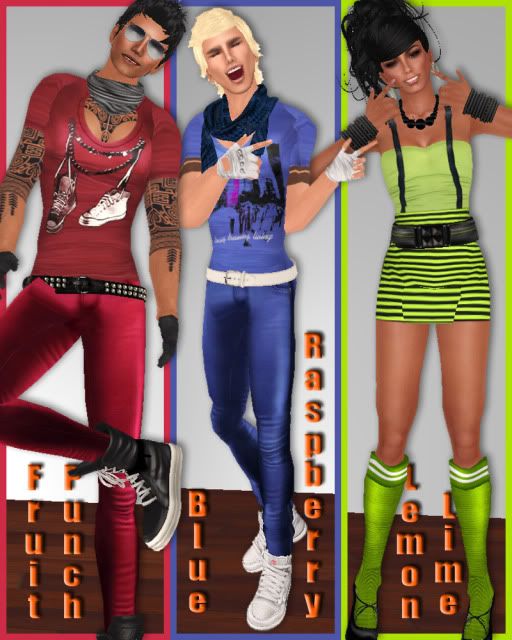 I recruited a little help with this one, welcome honorary Candies Beau Hadisson and Bradyn Bellic were nice enough to lend me their hotness for a little flavor makeover. When I was thinking about how to display lollipop flavors I instantly thought of the fun, bright colors of the new line of clothing from
Emery
. They have come out with a wide selection of colors which allow you to piece together really fun outfits.
BEAU WORE:
Shape: His own

Skin: MAI - Alexandre Sunset Vol.1 (Le.Look Location)

Eyes: CheerNo - GLOX.eye Line [Photo.X] *Water 02

Hair: MADesigns HAIR - ERIC - NB I

Tattoo: TikiTattoo - Tikehau

Shirt: Emery - Top Shoes #03 Free

Pants:
Emery - Jean Skinny Passe #Red

Gloves: Emery - Gloves #Black
Shoes
: Rawdolls - Pitchbull Hi-cake

Scarf: Emery - Bandana Neck #M

Belt:
Primitive Design - studded belt (dark leather)

Glasses: Emery - Sunglasses Aviator (Silver Frames)

BRADYN WORE:
Shape: Her own

Skin: Belleza - Jesse Deep tan 7

Eyes: Mr.Poet - Distinct eyes Green

Hair: W&Y Hair - New 18 Delete"TYPEA"

Top: Emery - Loop Suit #Citrus

Skirt: Emery - Skirt Highwaisted Striped #Citrus

Socks: Emery - Socks Orchid Club #Citrus

Shoes: Maitreya - ChiChi Velvet Black

Belt: Emery - Belt Pyramid #Gray Elastic

Necklace: PEER Kiddz - Chunk Necklace - Color Change

Earrings: Zaara - Hiral Shell Earrings *silver*

Bracelets: Emery - Square Bangle Multiple

EROS WORE:
Shape: My own

Skin: Hermony - Kriz ST1 - Shaved - liner (Hair)

Eyes: Cyanide - Cyanide Eyes - Prim Eyes - Blue

Hair: EGO - BEC - Light Platinum Blonde -

Tattoo: Aitui Tattoo - Minimalist - Upper Wrist Wraps /fresh/ I

Shirt: Emery - Dreaming #04

Pants: Emery - Jean Skinny Passe #Blue

Gloves: Emery - Gloves Studded #Pure

Shoes: Urban Bomb Unit - Drunks

Scarf: Emery - Scarf Plaid Blue

Belt: Kari - Plain white belt